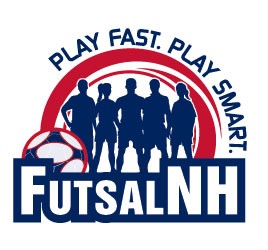 September 8 – Manchester, NH: New Hampshire Soccer Association is proud to announce a newly formed partnership between the New Hampshire Soccer Association and Futsal NH. Futsal NH is New Hampshire's ONLY US Soccer affiliated futsal league under US Youth Futsal League and bring players in New Hampshire a new oppertuntiy to develop and train during a time where being outdoors is not an option.
Futsal is an exciting, fast-paced small sided soccer game that is played across the world and is officially recognized by both FIFA and UEFA.

Futsal earned the status of FIFA's official form of indoor soccer in the 1980s as it was recognized as a scaled down version of outdoor soccer played indoors. It is a 5 v 5 small-sided game played on a hard surfaced, basketball sized court with a smaller, low bounce ball. Futsal is played with touchline boundaries and without walls.
Futsal places a large emphasis on technical skill in high pressure situations which can be translated into the outdoor game. The sport is a great skill developer as it demands quick reflexes, fast thinking and pin-point passing.
Futsal is played in all the continents of the world by over 100 countries with 12 million players. Great soccer superstars such as Pele, Zico, Ronaldo, Messi, Kaka and Katia grew up playing the game and credit futsal with developing their skills.
Tom Bellen, Director of FutsalNH, says "Futsal is not only good for developing soccer players, it is also extremely fun to play, coach, and watch! FutsalNH's affiliation with NHSA will provide players all over NH with more opportunities to play futsal. Soccer players who haven't tried futsal yet should give it a try. We pretty much guarantee they will love it."
The partnership between NHSA and Futsal NH is an exciting new avenue for many soccer players here in the State. We want our players to continue to play and develop here in thier home state. Futsal and another example of the many opportunities players have to learn, play, and develop the game of soccer here in our beautiful State of New Hampshire.
###
About Futsal NH:
Futsal NH is the only US Soccer affiliated futsal league in New Hampshire. Futsal NH's goal is to develop the beautiful game of futsal in NH and surrounding areas. We are looking forward to providing an opportunity for all soccer players/clubs to develop their soccer skills. We offer leagues, trainings, tournaments, and more all year long. For more information about Futsal NH, visit: https://www.futsalnh.com/
About New Hampshire Soccer Association:
The New Hampshire Soccer Association (NHSA) is a non-profit 501 (c) (3) organization established to promote, educate and advance the game of soccer in New Hampshire.
Established in 1977, we have become one of the fastest growing state soccer programs in the country. NHSA is comprised of 23,000 recreational, club/travel, premier and adult members. As well as thousands of dedicated coaches, referees and volunteers throughout the state.Membership in NHSA also includes membership in the US Youth Soccer Association (US Youth Soccer), the world's largest youth soccer organization, with 3.2 million members and the United States Soccer Federation (USSF), the national governing body for soccer in the United States. NHSA is a member of the Federation Internationiale de Football Association (FIFA), the governing body of soccer in the United States. The activities of NHSA are governed by a voluntary Board of Directors elected annually by its members.
https://soccernh.com/wp-content/uploads/2019/09/futsalnh_2017-sm.jpeg
250
268
Webmaster
https://soccernh.com/wp-content/uploads/2019/06/ezgif.com-webp-to-png.png
Webmaster
2019-09-09 21:45:27
2019-09-12 12:39:29
NEW New Hampshire Soccer Association Partner: Futsal NH