NH ODP Partners with Local Colleges to Provide Overnight Soccer Experiences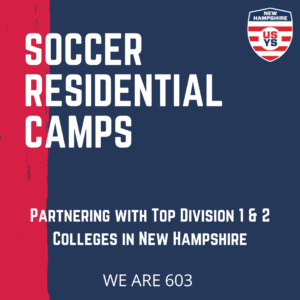 The New Hampshire Olympic Development Program (ODP) is excited to announce our partnership with St. Anselm's Women's Soccer and University of New Hampshire Men's Soccer programs to provide an overnight soccer camp experience for our ODP players. As a coaching staff, we strongly encourage developing youth players to attend a residential soccer experience, preferably at a university, to support their growth as a soccer player and individual. Fortunately, we have two local college programs that are offering exceptional overnight camps in which youth players will be instructed by high-level college coaches and current players.
"I would like to thank Coach Joel Bancroft of St. A's and Coach Marc Hubbard of UNH for creating an outstanding opportunity for our ODP players to attend a residential soccer camp and learn from the top coaches and players within our state, region, and country. I recommend all ODP families to take advantage of these camps because the overnight experience is incredibly beneficial for a young player's personal growth and development. We look forward to building on these partnerships in the future including our ODP players attending St. A's and UNH soccer games, hosting training sessions ran by college coaches and players, and receiving educational information for our ODP players interested in the college game," stated NH ODP Program Director, Brad Campion.
2022 St. Anselm's Women's Soccer Overnight Camp
July 10-13, 2022 (Girls' ODP Players)
St. Anselm's Campus, Manchester NH
Registration: St. Anselm's Women's Soccer Camp
Head Coach Joel Bancroft said:
"The week of our overnight camp we look forward to every year! When we launched our camp four years ago it was with a clear focus. Can we share our amazing campus with our community? Can we attract the top players in our beautiful state and region to our program? Can we use as a platform for youth players of New Hampshire to gain an understanding of what it's like to compete at a high collegiate level as well as additional exposure to collegiate coaches and programs in our area. Over 90% of our current roster has attended camp. Whether it be at Saint Anselm or another program we have been incredibly successful helping youth players make connections and find the right fit for their collegiate academic & athletic experience."
2022 UNH Men's Soccer Residential Camp 
Camp 1: Sunday, July 24 – Wednesday, July 27 (Boys' ODP Players)
Camp 2: Wednesday, July 27 – Saturday, July 30 (Boys' ODP Players)
University of New Hampshire, Durham, NH
Registration: UNH Men's Soccer Residential Camp
What Head Coach Marc Hubbard had to say about ODP's partnership with UNH Men's Soccer Residential Camp:
"I am happy to see the resurgence of ODP and its importance placed on the development of our youth in this state. Brad Campion has done a fantastic job making ODP more relevant with increased exposure. This partnership will allow for New Hampshire's best college coaches and players a rare opportunity to connect and work with each other in a unique residential environment both in the off the field. As a former NH ODP player myself, we look forward to working with you this summer and helping you along your developmental journey."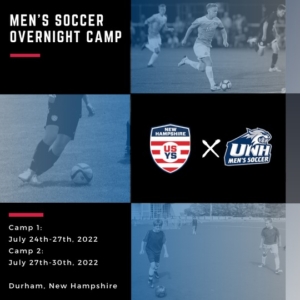 More Details:
UNH is offering two sessions this year! All campers are welcome to register for one or both sessions. Register for both sessions and receive $150 off the registration fee for the second session. Overnight includes: Five days of soccer training and instruction, free T-shirt, 3 meals per day, air-conditioned housing in UNH dormitories. *There are commuter options as well.
Please note: The entire registration and payment process is through St. Anselm's and the University of New Hampshire's respective sites and organizations.
If you have any questions, please feel free to reach out Brad Campion, ODP Program Director, at odpdirector@soccernh.org. You may also speak with Joel Bancroft and Marc Hubbard directly.
https://soccernh.com/wp-content/uploads/2022/02/3.png
800
800
Brad Campion
https://soccernh.com/wp-content/uploads/2019/06/ezgif.com-webp-to-png.png
Brad Campion
2022-02-11 15:13:26
2022-02-11 15:33:49
NH ODP Partners with Local Colleges to Provide Overnight Soccer Experiences