Deferred Tryouts for 2023-2024 ODP Season – November 19th
The US Youth Soccer Olympic Development Program (ODP) is a national identification and development program that identifies youth soccer players throughout the country, to represent their state association, region and the US National Youth Teams in international soccer competitions.
ODP teams are formed at the state and regional levels, made up of the best players in various age groups. At the state association level, pool of players are identified in each eligible age group and brought together as a team to develop their skills through training and competition. From the state pools and subsequent teams, players are identified for regional and national pools and teams.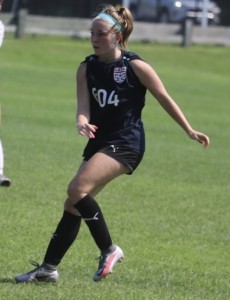 In 2021, Greta Caulton from our 2005 Girls NH Team was selected out of hundreds of players to be on the East Region ODP team. Greta attended the ODP Interregional Event in November where she played for the East Region and competed amongst the top '05 Girls across the country! Based on her play in the tournament, the ODP coaching staff selected Greta to the 23-player roster to represent the ODP National Team for her age group. Greta traveled down to Tampa, FL in January to meet her teammates from around the country and showcase her abilities in front of the national staff, top academies, and college coaches. Her coach…US Soccer Legend, Brandi Chastain.
A statement from Greta on her ODP National Team selection:
"Ever since I was very young, I've always dreamed of someday being on the US Women's National Team. I wrote a note to myself in the sixth grade, saying I hope to someday make it there. But, I was aware of the journey, and I knew I had to start soon. Everyone has to start somewhere. That's why I'd like to thank all of my New Hampshire ODP friends, for setting the bar so high during my first few practices for NH ODP. I was only in eighth grade during this time, and this was my first time training with an elite group of girls. This helped me realize that I'm done dreaming about someday being on the national team. This could be real.
And since then, I'm so glad that I started. Friends and peers often ask me how I'm not jumping up and down about this news. Obviously I'm ecstatic for my accomplishments, but I also try to be humble about it. This wasn't just news emailed to me out of the blue. I worked day and night for years to make it here, and I'm so glad the work paid off."
– Greta Caulton, 2021 East Regional and National Team Selection '05
Frequently Asked Questions (FAQs)
What are the Goals of ODP?
To identify a pool of players in each age group from which a United States National Team will be selected for international competition.
To provide high-level training to benefit and enhance the development of players at all levels.
Through the use of carefully selected and licensed coaches, develop a mechanism for the enhancement of ideas and curriculum to improve all levels of coaching.
Who is Eligible?
Any soccer player who is a New Hampshire resident and in good standing with the NHSA is eligible for consideration in the ODP provided that he/she meets the age requirements for the established age groups. An out-of-state player may try out for NH ODP, but only after they have received permission from their home state to do so and NH ODP administration has approved their application.  A player may not try out for the ODP in more than one state association.
What are the age groupings for the 2022 NH ODP Season (for both boys and girls)?
The State ODP teams are grouped by birth year of the player. This process is different than the club soccer and school model. Therefore, there will be players who will qualify for one age group for ODP, but another age group for their club soccer team. The birth years for the 2022 season (Nov 2021 – July 2022) are:
U12 State pool Team (born in year 2010)
U13 State pool Team (born in year 2009)
U14 State pool Team (born in year 2008)
U15 State pool Team (born in year 2007)
U16 State pool Team (born in year 2006)
U17 State pool Team (born in year 2005)
How are players selected?
The players on the NH ODP State Teams are selected through a multilevel process. The first phase in the selection process is an open tryout that is held in late summer or early fall. The goal of the open tryout is to create a working pool of players that train through the winter in the NH Futures program. Players are evaluated on the four components that make up a soccer player: technique, tactics, fitness and athletic ability, psychological component (attitude). Players that meet the expectations of the winter training pool are invited to join the NH Futures Winter Training Program. Each age group has between 20 and 30 players in the winter training program.
​NOTE: Players who where unable to attend the open tryouts can contact the NH ODP Girls or Boys Administrator to set up a tryout during the winter training sessions.
The second phase in the selection process is the winter training program, called NH Futures Program. Over the winter the coaching staff trains and evaluates the selected pool of players in preparation for the final selection of the NH ODP State Team in March. The NH ODP State Teams consist of 20 players.
What do ODP players do?
Upon selection, a NH ODP player is expected to participate in all activities of their team. These activities may include exhibition matches, invitational tournaments and sub-regional and regional camps. If players are not available for specific event, they may be replaced by another player from their player pool.
Players should be serious about their participation, and should be committed to improving their individual skills as well as improving as a team player. Players are subject to the ODP Code of Conduct upon entry into the program; among other things, the Code prohibits the use of drugs and alcohol by ODP players, and violation of the Code's provisions are reasons for immediate termination of a player's participation in ODP.
What are Regional Tournaments and Camps?
US YOUTH SOCCER is divided into four regions, each of which offers regional tournaments and camps for state association ODP teams in each eligible age group. These events are designed to provide high level competition and training for participating players. During this training and competition, players who are capable of performing at a high level of play are identified for possible national camp, pool or team participation. Each region varies somewhat as to the specifics and the cost of their camps. The Region 1 Tournament is typically held on the first or second weekend in June; and Region 1 Camps are typically four day events held in mid-July (see the Region 1 web site atwww.region1.com for more information).
What is a National Camp?
National Camps and Inter-regional events are held throughout the year at various locations in the United States. The National Team Coach or a National Staff Coach is present at these events to observe, train and identify players for placement in the national pool or on a national team.
What are the Benefits of Participating in ODP?
Development as a player via the opportunity to train and play with the best players in one's age group.
Quality instruction from state, regional and national team nationally licensed coaches.
Quality competition via games against other state association ODP teams.
The opportunity to represent one's state, region or country in competition.
Exposure to college coaches.
What are the costs of participating in the NH ODP?
NH ODP is a fee based program that is divided into distinct segments. There are specific fees as a player move through the program stages. The stage fees are:
Tryout registration – $35
NH Future Program (winter training ) – $225
NH State ODP – $450 (estimated fee – dependent on several fee that will not be announced until Feb 2021)
East Region Invitational Identification Summer Camp – TBA (fee set Region 1. The 2021 fee still TBA)
NOTE: Aid based on financial need are reviewed and rewarded by the NHSA Executive Board for the benefit of NH ODP players; fundraising opportunities are also available.
What is the schedule of NH ODP?
Initial tryouts in June to establish age-group pools of 20 to 30 players for the winter training groups to begin in the November. Winter training groups are referred to as NH Futures.
Winter indoor training and play of age-group pools, and open tryouts by scouting or referral, meeting eight times between November and early March, typically every other Sunday morning.
Spring training of age-group teams (18 players plus 2 or 3 alternates) begins with a few indoor sessions in late March, then moves outdoors in April through May. The outdoor sessions are held weekly on Wednesday nights. Spring training is a combination of training sessions and friendly matches against neighboring state ODP teams and other quality club teams. Ultimately, the spring training time is used to prepare for the Region 1 ODP Tournament in June.
Regional Identification Camps are held in early July (see the Region 1 web-site atwww.region1.com for more information).
Who are ODP Staff Coaches, and what are their qualifications?
ODP Staff Coaches are a carefully selected group dedicated to the development of youth soccer players and to the game of soccer in New Hampshire; they are youth, club, high school, college, professional and national team coaches. Typically ODP Staff Coaches have played the game at a high level themselves (collegiately and/or professionally), have had considerable soccer-coaching experience, and hold at least a USSF "C" Coaching License, or a NSCAA National Diploma – most hold the highest levels of coaching licenses.
Will participation with a NH ODP team conflict with club soccer?
The NH ODP strives to honor the good work of club soccer in this state as best as possible, and strives to work in conjunction with clubs to identify the top players in New Hampshire. New initiatives established for the 1999/00 season, and revisited in 2013, are meant to improve relations between club and ODP even further, including designated club and ODP practice days, and scheduling in conjunction with each other. Club participation should be a priority, and ODP should be understood as a supplement to and opportunity for top club player's development.
The New Hampshire Soccer Association would like to encourage you to participate in the Olympic Development Program. Do not be discouraged if you fail to make the program in a given year. A number of our past and current National Team players did not make the program on every attempt. The NH ODP wish you the best in your efforts, and looks forward to seeing you "on the pitch!"
For more information interested players should contact NH ODP Director, Brad Campion – odpdirector@soccernh.org
New Hampshire Soccer Association
The New Hampshire Soccer Association (NHSA) is a non-profit 501 (c) (3) organization established to promote, educate and advance the game of soccer in New Hampshire.