If your organization is interested in partnering with the NHSA in hosting, promoting, and/or marketing your camps, email Ed Royer  at director@nhsoccerleague.com.
Click link below for more information.
NHSA & NEW ENGLAND REVOLUTION SUMMER CAMP
New Hampshire Soccer Association is pleased to announce a partnership with the New England Revolution for a July Revs Academy Summer Camp.
We're excited to partner with the New England Revolution to provide new and exciting player development opportunities for our players!
Dates: July 10th-13th
Location: NHSA Complex  (326 Buck street, Pembroke NH)
Time: 9.00am-12.00pm
Ages: 7 years old – 14 years old.
Cost: $195
Link to Register – CLICK HERE 
The Camps are all coached by the Revs Academy Professional coaching staff and will follow the Academy's approach to Player Development, the philosophy of the Academy focuses around 3 key areas when working with youth players…
Player Centered
Development Based
Experience Driven
The curriculum of the camps is designed to engage and challenge players all whilst having FUN. The camps cover 4 main themes during the 4 days.
Day 1 – Individual Creativity / Attacking
Day 2 – Group Play / Passing & Possession
Day 3 – Finishing / Goal Scoring
Day 4 – Attack vs Defense
https://revolutionsocceracademy.configio.com/pd/1531/new-hampshire-soccer-association-summer-camp-ages-7-14-field-players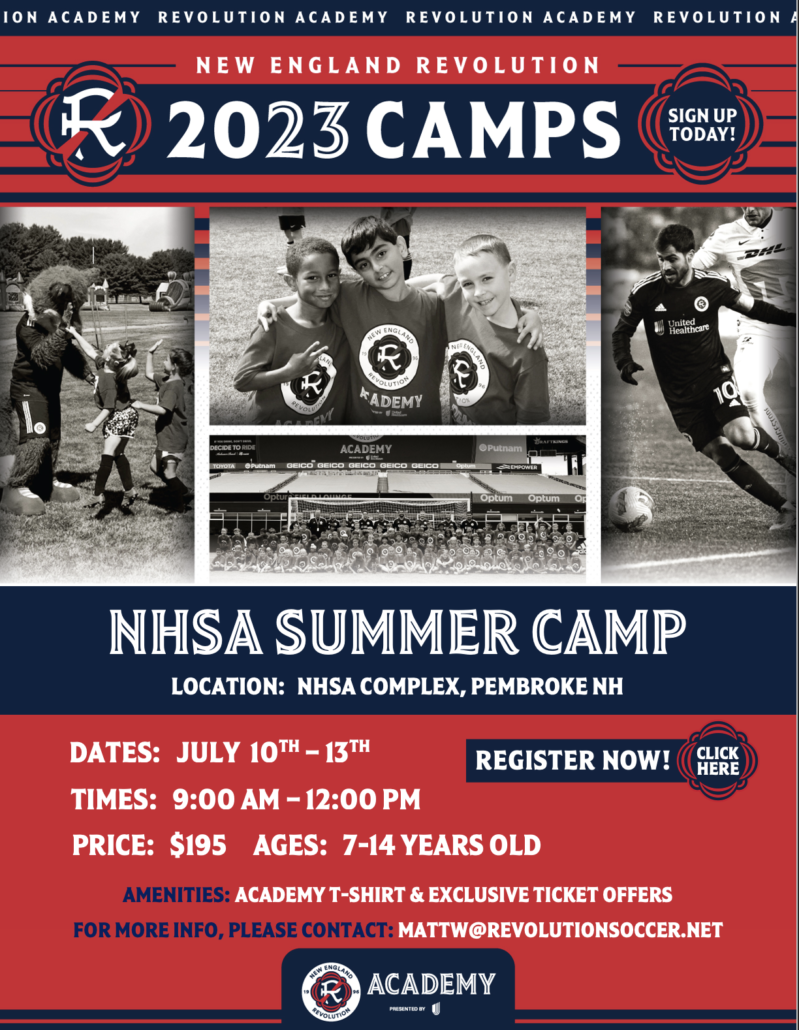 2023 Current Camp Details:
New Hampshire Soccer Association is excited to announce that we will be offering summer camp opportunities again for the 2023 season. Camps will take place at our state fields in Pembroke, NH. Registrations are now open. CLICK HERE to Register 
Details:
July 24th-28th
Ages/Times:
Mighty Kicks: Ages 2 to 3 – 9:00am-9:50am
Mighty Kicks: Ages 4 to 5 – 10:00am-10:50am
TOTS program: Ages 6 to 8 – 9:00am-10:30am
Half Day Program: Ages 9 to 16 – 9:00am-12:00pm
Full Day Program: Ages 9 to 16 – 9:00am-3:00pm
An 8:30am early drop off is offered. No late pickups.
Cost:
Mighty Kicks: $85
TOTS: $105
Half Day: $165
Full Day: $215
Location: NHSA State Fields – 326 Buck Street, Pembroke, NH 03275
Players DO NOT need to be affiliated with a club to attend these camps.