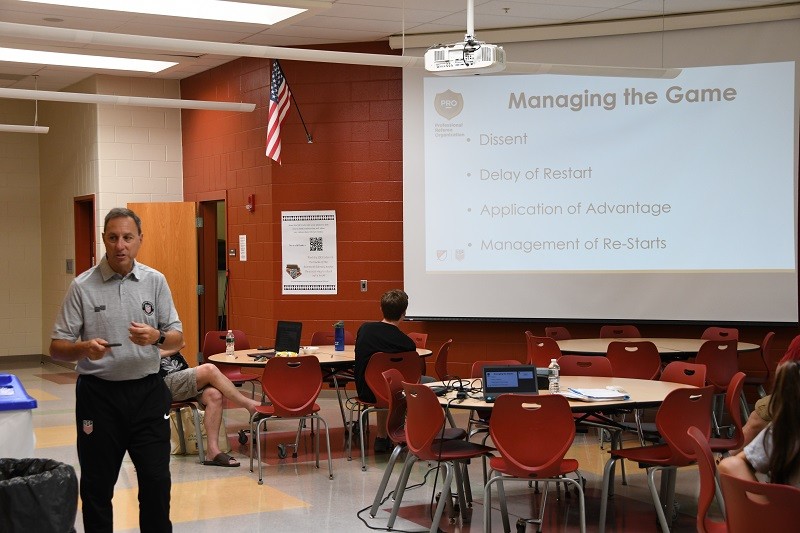 August 10-11 (Derry, NH) – As is typical for the New Hampshire US Soccer referee community, the second weekend of August serves as the annual advanced referee training (A.R.T.). Each year, the State Referee Committee (S.R.C.) plays host to a National Referee Coach from US Soccer who spends the weekend working with referees on a variety of topics including, but not limited to:
Changes to the US Soccer Referee Program:

New Referee Grade System
"What is a Grassroots Referee?"
Registration & Recertification Changes

Understanding changes to the Laws of the Game (LoTG)
Review updated LoTG interpretations
The Role of the Referee, Referee Mentor, Referee Coach, and the SRC.
This year, referees were lucky to have Rick Eddy, Director of Referee Development for US Soccer, be the lead instructor. Rick is a New Englander at heart, even though he currently resides in Chicago working for US Soccer. Rick spent two days working with our referees and the State Referee Program. New Hampshire is lucky to have such a great resource who understands the New England soccer enviornment and can assist referees naviagate the ever changing waters.
Saturday:
Saturday begins with the Regional Referee Fitness test for referees who currently hold (or seeking upgrade to) the "Regional" Referee distinction. This test is two parts which include the "Sprint" Test and the "Interval" Test.

The Sprint Test is a series of sprints in which the referee has 7 opportunities to complete six (6) 40 meter sprints in no more than 6.4 seconds. If a referee does not complete this test, they do not get to advance to the Interval Test.
The Interval Test is a series of intervals in which the referee must complete 40 intervals that include a 75 meter run and a 25 meter walk. The 75 meter run must be completed in 17 seconds and the 25 meter walk must be completed in 20 seconds. Referees will complete a series of 40 intervals at this pace. Referees are only allowed 1 missed interval before failing the Interval Test.

After the Regional Referee Fitness Test, those referees will join the grassroots referees for a classroom session which spans from 9AM to 4PM.

During this session, referees receive instruction on the latest changes to the LoTG as well as changes to interpretations of current Laws. This year, the International Football Association Board (IFAB) has made many changes to the LoTG. Referees were able to get clearity on all of these changes and ask supporting questions to ensure full and total comprehension.

After lunch, referees were able to take part in Video Clip analysis. Referees used the FIFA Considerations to come to conclusions baised on current LoTG and interpretations. This is always good for referees to not only see how the LoTG are supposed to be interpreted but also ask questions baised on their own experiences.
Sunday:
Current and future Referee Mentors & Coaches returned to work with Rick again as well as Professional Referee Organization's (PRO) Erich Simmons who is currently a Development Group Referee Coach for referees in the country's highest levels of soccer. This second day of training focuses on the "Role of the Referee Mentor & Coach" as well as instructional practices that will have the greatest impact with officials.

The Referee Mentors & Coaches collaberated on preparing video analysis training by using FIFA's "Sequence for a Presentation of a Video". Referee mentor, Cullen Madden, said "This training really helps us, as mentors, to see the many different ways that utilization of video/technology can benefit an official as well as their peers when used properly."
The training provided all in attendance the opportunity to not only see best practicies but demonstrate what they learned as well.
A big thank you goes out to US Soccer's Director of Referee Development, Rick Eddy. This weekend of training will serve the referees in New Hampshire well and allow many to pass the torch of knowledge to other referees across the State of New Hampshire.
A thank you also goes to Erich Simmons for taking the time to Coach our Referee Coaches and Mentors.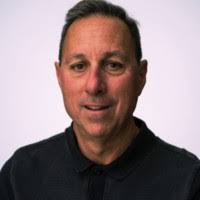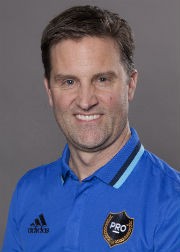 https://soccernh.com/wp-content/uploads/2019/07/USSOCCERFED_NHREF_Logo_SM.png
125
272
Webmaster
https://soccernh.com/wp-content/uploads/2019/06/ezgif.com-webp-to-png.png
Webmaster
2019-08-12 20:12:08
2019-08-13 20:12:56
NH Referees attend Advanced Training from National Referee Staff